URBAN EXPLORATIONS: art-inspired learning in multicultural scenarios
Location
Lisbon
Dates
Monday, 2 October – Friday, 6 October 2023 (10:00 – 16:00)
Address
Avenida do Brasil, 156 CVF- Lisboa
Language
English
Certification
A certificate of attendance is presented to participants at the end of the course.
Course Fee
400 Euros (accommodation and meals are not included)
Funding
An Erasmus+ grant from your National Agency can be requested.
---
Target Participants
We welcome teachers and other adults from educational organizations who are involved in any types of formal and informal teaching. However, this course is open to everybody, particularly those who find pleasure in observing their environment, taking photos, writing about their day-to-day experiences, and are interested in learning more about artistic approaches to reflect on their current interests.
---
About the Course
How do we exist in relation to the physical surroundings of a city? How do we remember, record, and interpret our urban journeys? How are these experiences and our emotional responses to cities/cityscapes turned into forms of artistic representations? And, moreover, how can these conversations inform our educational practices?

Over the course of 5 days, we will discuss the implications of walking, cityscapes, memory, language, art, and learning experiences in multicultural settings. Firstly, we look into durational acts and performances created by artists in cities. Drawing inspirations from them, we will develop our personal strategies to explore Lisbon. Secondly, we investigate how durational acts are documented, aesthetically treated, and presented in the visual art contexts. We then experiment with different approaches to translate our experience into artistic forms, such as photography, texts, webpages, codes, instructions, audio recordings, and other types of representation. Thirdly, we will learn about acts of interventions in cities in relation to socially-engaged art, and arrange visits to museums and cultural organizations in Lisbon.
Drawing upon artists' urban explorations and their effort to create aesthetic forms to present the journeys, we address how they offer intriguing insights to education and learning. Art provides alternative avenues for knowledge acquisition, enabling learners to engage with diverse perspectives, emotions, and sensory experiences. Moreover, art enhances communication and self-expression, allowing individuals to articulate their thoughts, emotions, and identities as well as to develop their unique voices, which can help us navigate better in diverse, nuanced, multicultural contexts.
During the course, we will do a lot of walking and "durational acts" together in the city. Activities in this course are designed to encourage participants to adopt their personal creative strategies, to engage in collaborative missions in multicultural settings, to share their findings in groups, to develop their artistic language (style) for expressing themselves, and to feel empowered to learn and to create.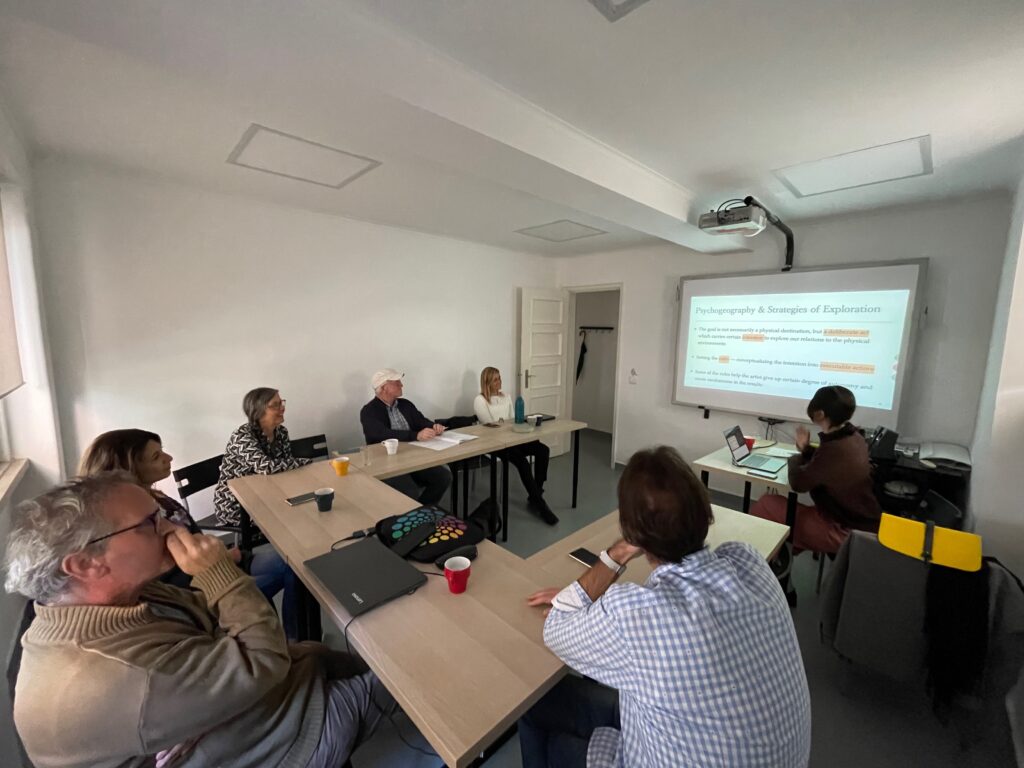 ---
Rundown of the course
Chapter 1 – Introduction
Chapter 2 – Psychogeography and Strategies of Exploration
Chapter 3 – Ways of Documentation in Visual Art
Chapter 4 – Interventions in the City (Socially-engaged Art)
Chapter 5 – Art and Learning in multicultural classrooms
Chapter 6 – Final discussion and Presentation
Participants are encouraged to share their findings with the public in a presentation event on the final day. They are welcomed to contribute to a small publication project documenting this course as well.
---
Equipment
Please bring a camera or a smartphone and make sure you can transfer your photos/videos/documents/texts from your device to us via wifi, Bluetooth or a cable.
---
Register